AUBURN AVENUE RESEARCH LIBRARY
Annie L. McPheeters Distinguished Scholar Works-in-Progress Lecture Series
The mission of Auburn Avenue Research Library's, Annie L. McPheeters Distinguished Scholar Works-in-Progress Lecture Series is to provide an accessible public platform for the specialized singular work of the selected Africana scholar.  These presentations, to be shared over the course of four lectures, will serve as intimate precursor lectures to an anticipated comprehensive future publication. In anchoring this series within a singular academic work in progress, AARL's aim is to expand outlets for the dissemination of Africana research and give non-academic communities, and the general public, a broader understanding, and appreciation for the curation of the scholarly work and its relevance to the contemporary lived experience of Black people.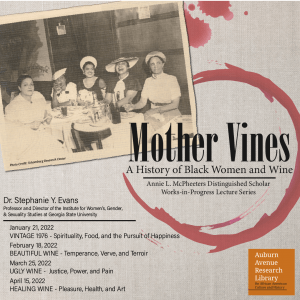 MOTHER VINES
A History of Black Women and Wine
Dr. Stephanie Y. Evans
Annie L. McPheeters Distinguished Scholar Works-in-Progress Lecturer
Dr. Stephanie Y. Evans
Mother Vines examines the rich history of Black women's diverse global wine tastes. Over 250 Black women's memoirs mention wine and reveal a deeply rooted tradition of enjoyment absent from discussions in the mainstream wine world. In this lecture series, Professor Stephanie Evans explores Black women's international winemaking, drinking, and sharing and unpacks themes in her forthcoming book, Mother Vines: Black Women's Global Wine Memoirs (working title).
To introduce themes of pleasure, pain, and power in Black women's wine writing, Evans examines twelve narratives that reshape the popular telling of the 1976 "Judgement of Paris" and the Bicentennial-era wine boom. She imagines how Black women's memoirs complicate the meaning of Thomas Jefferson's assertion, in the 1776 Declaration of Independence, that every person has a right to "life, liberty, and the pursuit of happiness."  Evans shows, for better—and for worse—Black women have historically pursued happiness through drinking wine.
Black women's wine stories expand worldwide appreciation for this ancient beverage and unearth deeper roots of the relationship between race, class, gender, and drinking. Memoirs show that palm, plum, banana, blackberry, orange, muscadine, and honey wine are as present in Black women's lives as champagne, cognac, or cabernet, and tastes also include sangria, sake, and slivovitz. This research challenges the erasure of Black wine professionals and disputes popular stereotypes that "Black women have no palate." In fact, memoirs demonstrate how Black women's palates include both the "old world and new world" but also reach beyond binaries. Memoirs are narrative "mother vines" that guide readers through Black women's complex tasting experiences, spanning four centuries, forty wine types, thirty countries, and fifteen states in the U.S.
Evans shares her fruitful quest to discover the vibrant and complicated wine history of Black women oenophiles (wine lovers). Featured authors include seventeenth-century Afro-Peruvian mystic Ursula de Jesús, social activist Mary Church Terrell, jazz age club owner Ada "Bricktop" Smith, chef Edna Lewis, writer Maya Angelou, environmental activist Wangari Maathai, actress Diahann Carroll, singer Natalie Cole, entertainer The Lady Chablis, centenarian athlete Ida Keeling, and artist Grace, Jones. Wine memoirs reveal truths that are beautiful, ugly, and healing.
Evans, as the twelfth storyteller, creates a triptych, a three-part portrait of Africana drinkers as "Wine in the Wilderness" women, reminiscent of the Alice Childress play. Mother Vines offers a robust taste of fascinating journeys that re-root Black women's voices into the global vineyard.
These stories also reflect wine as an element of Black women's timeless quest for mental health,  wellness, and joy.
For more information about the Mother Vines project, visit: www.mother-vines.net
Works-in-Progress Lecture Series Dates
Lecture 1                     January 21, 2022
VINTAGE 1976        To Imagine That She Has Enjoyed
Introduction                Mother Vines: Black Women's Wine Memoirs
Spirit                             Ursula de Jesús, The Souls of Purgatory
Temperance                Mary Church Terrell, Colored Woman in a White World
Lecture 2                    February 18, 2022
BEAUTIFUL WINE  Wine in the Wilderness
Verve                           Bricktop,  Bricktop…the Exuberant Story of a Fabulous Life
Food                            Edna Lewis, The Taste of Country Cooking
Terroir                        Maya Angelou, Singin' and Swingin' and Gettin' Merry Like Christmas
Lecture 3                    March 25, 2022
UGLY WINE            Drunk With the Wine of the World We Forget Thee
Justice                                     Wangari Maathai, Unbowed
Price Point                            Diahann Carroll, The Legs are the Last to Go
Addiction                              Natalie Cole, Angel on My Shoulder
Lecture 4                    April 22, 2022
HEALING WINE     I Heard It Through the Grapevine
Party                            The Lady Chablis, Hiding My Candy
Health                         Ida Keeling, Can't Nothing Bring Me Down
Art                               Grace Jones, I'll Never Write My Memoirs
Conclusion                 #LaughingWhileBlack: The Politics of Black Women's Joy
Dr. Stephanie Y. Evans - Biography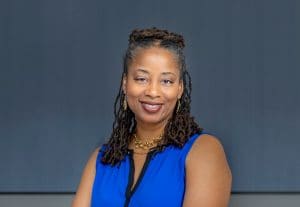 Stephanie Y. Evans, PhD is a Professor of Black Women's Studies, faculty in the Institute for Women's, Gender and Sexuality Studies, and affiliate faculty in the Department of Africana Studies at Georgia State University. She served as department chair and director for twelve years at GSU, Clark Atlanta, University, and University of Florida. At GSU, she is also affiliate faculty in the Center for the Study of Africa and Its Diaspora (CSAD) as well as in the Center for the Study of Stress, Trauma and Resilience. Her research interest is Black women's intellectual history, specifically memoirs, mental health, and wellness.
Dr. Evans is author of three books: Black Women's Yoga History: Memoirs of Mental Health and Wellness (SUNY, 2021); Black Passports: Travel Memoirs as a Tool for Youth Empowerment (SUNY, 2014) and Black Women in the Ivory Tower, 1850-1954: An Intellectual History (UF, 2007) as well as lead co-editor of four books, Black Women and Public Health: Strategies to Name, Locate, and Change Systems of Power (SUNY 2022), Black Women and Social Justice Education (SUNY, 2019), Black Women's Mental Health: Balancing Strength and Vulnerability (SUNY Press, 2017), African Americans and Community Engagement in Higher Education (SUNY, 2009).
Evans is also co-chair of "Chair at the Table: Black Women Department Chairs on Academic Service, Leadership, and Balance" (a 2021 special issue of Palimpsest journal). She is curator of the Black Women's Studies Booklist (bwstbooklist.net) and editor of the Black Women's Wellness book series at SUNY Press. Her full portfolio is available online at http://www.professorevans.net/.