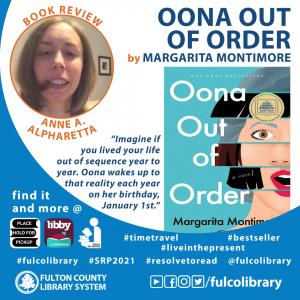 Looking for your next read? Check out Oona Out of Order by Margarita Montimore, reviewed by Fulco Library staff, Anne A.
Imagine if you lived your life out of sequence year to year. Oona wakes up to that reality each year on her birthday, January 1st. This unbelievable occurrence starts when she turns nineteen. She starts that year waking up in the year 2015 in the body of her fifty-one year old self. However, mentally and emotionally, she's nineteen. The night before she was eighteen, and it was 1982. Each year she's a different age in her life. She remembers each year that she has lived, but she isn't living them in chronological order. Over the course of book she spends some years partying and other years traveling. One year she wakes up married to a man she doesn't know. Oona must learn to embrace the challenges each year brings and live in the present because she doesn't know where or "when" she will be next year.
I loved this book. It's interesting to imagine what one's life would be if it wasn't lived chronologically. Throughout the book, Oona discovers the benefits and pitfalls of a life "out of order." She watches New York become cleaner and safer, but she also watches people become dependent on smart phones and technology. She makes money because of her knowledge of the future stock market, but has trouble maintaining friendships over the years. Overall Oona's life reminds us to live each day to the fullest because you never know when things will change.
Oona Out of Order is available as an eBook and an audiobook on Overdrive. It is also available to be placed on hold. If you like Oona's story, you might like Life After Life by Kate Atkinson. In this book, Ursula Todd dies over and over again. Each time she gets chance to live her life differently to change her destiny. This intriguing story is also available through the Fulton County Library System on Overdrive and in print. Borrow either of these books if you want an escape from reality.
Check out Oona Out of Order on Hoopla, Libby, or from your branch's shelves with your library card today!
HooplaDigital: Oona Out of Order eAudiobook (No Wait), opens a new window
For personalized reading recommendations,
ask Novel Deliveries. 

Answer a few questions about what you like and/or want and get suggestions in only a few days.
This post is for educational purposes and the contents are not endorsed by the Fulton County Library System or Fulton County Government.