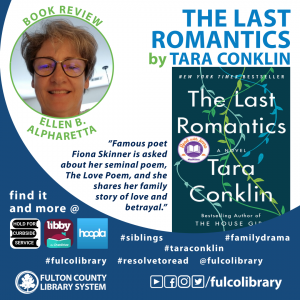 Looking for your next read? Check out The Last Romantics by Tara Conklin, reviewed by Fulco Library staff, Ellen B.
"It didn't matter how great a mother you tried to be; eventually every child walked off into the world alone." The four siblings (3 girls and a boy) and their mother are very close – particularly after their father dies. They go through what they call The Pause, when their mother is present but not there. The four children fend for themselves in every way and their mother occasionally leaves her bedroom. They bond during this time, unusually close because of the circumstances. As they grow, they carry with them the wounds from The Pause and try to live their adult lives with grace. It's difficult to do after what they experienced. Another tragedy occurs and sends them again seeking solace as to how to go on and how to live looking toward the future. If you like books about family dynamics and family drama, you'll like this one.
Check out The Last Romantics on Libby, or from your branch's shelves with your library card today!
The Last Romantics Audiobook CD

For personalized reading recommendations,
ask Novel Deliveries. 

Answer a few questions about what you like and/or want and get suggestions in only a few days.
This post is for educational purposes and the contents are not endorsed by the Fulton County Library System or Fulton County Government.