Georgia Public Library Service launched new partnerships with Atlanta History Center, Computer Museum of America, and Shakespeare Tavern® at a public event held today at the Buckhead Branch of the Fulton County Library System. Library cardholders can check out a pass from their local library, just like a book, and use it at these locations for free admission. The Georgia Public Library Service Partnerships program is available through all 410 public libraries in Georgia. 
 "We are thrilled that our Partnerships program continues to grow and include such prominent cultural institutions across Georgia," said Julie Walker, vice chancellor for Libraries and Archives and state librarian. "Georgia Public Library Service partnership passes broaden the audience for participating institutions and gives many more people the opportunity to experience them." 
 Through partnerships with organizations across the state, Georgia Public Library Service provides families with educational and recreational opportunities to spend time together while saving money. Our strategic partnerships have provided hundreds of hours of free programming for public library patrons while saving Georgia families more than $20 million since 2005. 
 The home of the Atlanta Shakespeare Company, the Shakespeare Tavern® produces a different play each month at its location in downtown Atlanta.
 "The library pass allows people in the community, who may never have been able to attend a performance, experience the world of William Shakespeare and live theatre," said Amanda Lindsey McDonald, actor and social media specialist with the Tavern.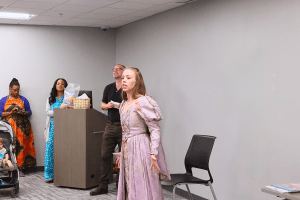 The Computer Museum of America has one of the world's largest collections of artifacts from the digital age. 
"We are thrilled to participate in the Georgia Public Library Service Partnership Program," said Rena Youngblood, executive director of the Computer Museum of America. "As the only computing and technology museum of its kind in the Southeast, we want everyone to have an opportunity to visit. The public library partnership pass is the perfect way to extend that opportunity to the people of Georgia."
The Atlanta Historical Society was founded in 1926 to preserve and study Atlanta history. In 1990, after decades of collecting, researching, and publishing information about Atlanta and the surrounding area, the organization officially became Atlanta History Center.
 "Through the partnership of libraries and museums, education comes to life. This collaboration sparks a love for learning that goes beyond walls, opening doors to exploration, questions, and the wonders that shape our city," said Shatavia Elder, vice president of education at Atlanta History Center.
 Learn more about the Georgia Public Library Service Partnerships Program at https://georgialibraries.org/partnerships, opens a new window. 
ABOUT THE NEW PARTNERS
 The home of the Atlanta Shakespeare Company, the Shakespeare Tavern® Playhouse has an enchanting history and a prime location in downtown Atlanta. They are a professional theatre with ready to eat café-style food and drinks available before each performance. The Atlanta Shakespeare Company produces a different play every month: https://www.shakespearetavern.com, opens a new window 
 The Computer Museum of America, which opened in 2019, draws attention to how technology has influenced and will continue to affect modern life. From the race to space to supercomputing to the power you hold in your hands, explore the past while imagining the future of technology. https://www.computermuseumofamerica.org/, opens a new window 
 Atlanta History Center strives to connect people, history, and culture through immersive and accessible offerings within the museum and online. https://www.atlantahistorycenter.com, opens a new window 
_________
Georgia Public Library Service empowers libraries to improve the lives of all Georgians by encouraging reading, literacy and education through the continuing support and improvement of our public libraries. Georgia Public Library Service is a unit of the Board of Regents of the University System of Georgia. The Partnerships Program is funded in part by the Institute for Museum and Library Services. www.georgialibraries.org, opens a new window