Reopening Guidelines for Fulton County Library
Welcome back!   We are thrilled to welcome patrons back to our libraries. As we work through Phase 1 of our return to in-person services, here are few tips for visiting your local library while following COVID-19 safety measures.
What services can I expect, now that the library is reopened to the public?
FulcoLibrary is pleased to offer in-branch browsing and use of our computer labs at all 32 library branches.  Here are a few tips for patrons:
In-branch browsing and borrowing includes browsing shelves and using self-check machines for completing as many transactions as possible, like paying fines (with a credit card, no cash accepted at this time) or checking out a book (or 20!)  ** PLEASE NOTE:  To use the self-checkout machines, you must know your PIN.  If you do not know your PIN or never set one up, please see a member of our staff for assistance. 
Patrons will be allowed one hour per day for in-branch browsing and borrowing, so please plan accordingly. We want everyone to have the opportunity to come back inside!
Patrons can use our self-serve copying/printing services while visiting the branch.
Patrons will also be able to get in-person assistance at the information desk (including assistance with locating materials in the branch, assisting with new library cards, or other questions).
Patrons will also be permitted one hour per day for computer lab use. Those using the lab will receive a disposable keyboard and mouse protector for their time at the computer.
What services will NOT be available when you reopen on May 4th?
During the first phase of reopening some services will not be available.  As we move to a wider reopening in June 2021, we hope to get some of these additional services back online!
In-branch programming will not take place at this time.
Study room/meeting room use will not be available at this time.
Staff will be unable to accept cash payments for fines, however cash is accepted for payment at all self-check machines.
In-branch use of tables/chairs or lounge areas will not be available.
This all sounds great, but when will the library open for good?
The wonderful news is that once we complete the first phase of reopening and see that all our main services are running efficiently and effectively, our plan is to fully reopen on June 1st, in time to kick-off our annual Summer Reading Program! This next phase will include a full opening schedule (Monday-Saturday) at previous hours of operation, the addition of seating and lounge areas, return to previous capacity levels in-branch and more.  Stay tuned as we work our way to a full reopening!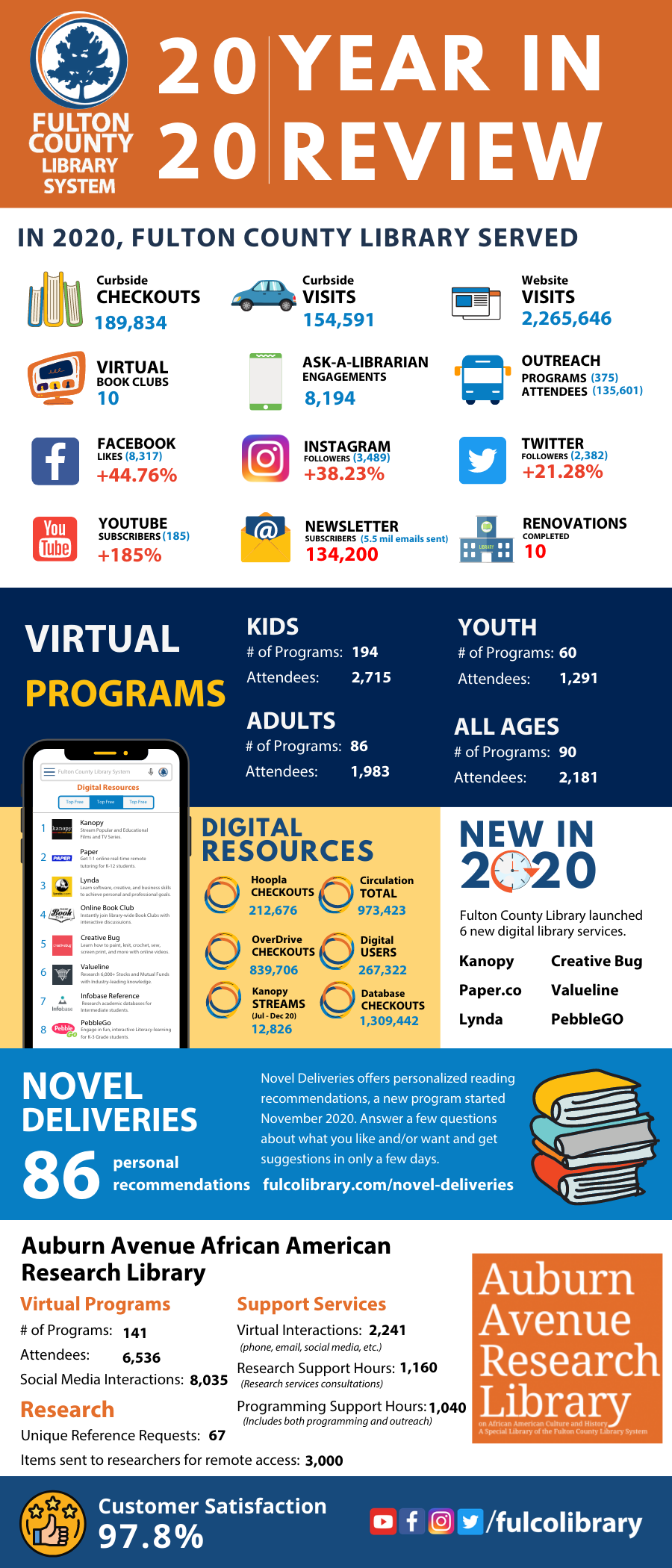 Take a virtual tour of all the libraries that completed construction during 2020-2021! We're pleased to share these beautifully new renovated branches with our patrons as we open for in-person services.  You can also download our Library Renovation Lookbook and share with your friends, family and neighbors!
Welcome back to all our library patrons from Adamsville-Collier Heights Library, Buckhead Library, Cleveland Avenue Library, East Atlanta Library, Hapeville Library, Mechanicsville Library, Northside Library, Northeast/Spruill Oaks Library, Ocee Library, and the Ponce de Leon Library!
We are excited to announce wireless printing is now available at your local library branch. Simply follow these basic steps to get your FREE (10 page) print job** started today:
Visiting the Wireless Printing

, opens a new window

 page on our website.
Type in your library card number, then click "Log in."
Locate and upload the document you want to print.
Call the branch ahead of time to print your document and ask when you can pick up your prints. **Staff will need your name and library card number or account ID, please have this information ready when you call.
When arriving at the library, call the number listed at curbside to let staff know you have arrived.