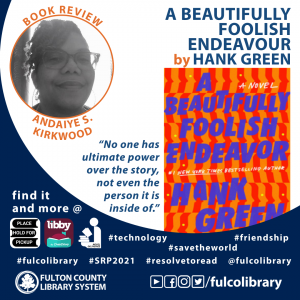 Looking for your next read? Check out A Beautifully Foolish Endeavour by Hank Green, reviewed by Fulco Library staff, Andaiye S.
A sequel that reads as a standalone, this timely title takes on the power of social media and those who control it without being preachy. After dealing with the sudden appearance and disappearance of alien robots in An Absolutely Remarkable Thing, antiheroes Andy, Maya and Miranda are moving on (or not) after the death of their friend and lover, April. But just as quickly as the alien robots disappeared, a new mystery and clues in the form of 'The Book of Good Times' leads them on a new adventure to take down an old enemy and dismantle what's become dystopia for some and utopia for others. Narrated from each character's point of view and using snippets of fictional podcasts and articles, Hank Green manages to successfully fuse a thought-provoking tale.
Check out A Beautifully Foolish Endeavour on Hoopla, Libby, or from your branch's shelves with your library card today!
A Beautifully Foolish Endeavor

A Beautifully Foolish Endeavor eBook

A Beautifully Foolish Endeavor eAudiobook

For personalized reading recommendations,
ask Novel Deliveries. 

Answer a few questions about what you like and/or want and get suggestions in only a few days.
This post is for educational purposes and the contents are not endorsed by the Fulton County Library System or Fulton County Government.