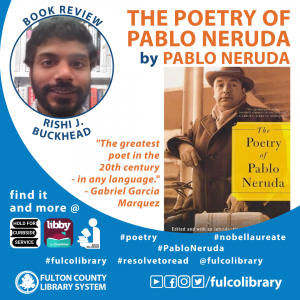 Looking for your next read? Check out The Poetry of Pablo Neruda by Pablo Neruda, reviewed by Fulco Library staff, Rishi J.
The Chilean poet Pablo Neruda is a Nobel Laureate whose poetry transcends the constraints of time to become a true classic in the western cannon of literature. He has been touted by literary giants like Gabriel Garcia Marquez as the "greatest poet in the 20th century in any language." Scholars of poetry like Martin Espada, a poet and professor at the University of Massachusetts, claim that "there really is Neruda for everyone, there's Neruda the love poet, Neruda the surrealist poet, the poet of historical epic, Neruda the political poet, Neruda the poet of common things, with the odes, the poet of sea and so on."
The Poetry of Pablo Neruda by Pablo Neruda is an excellent anthology of Neruda's poetry that showcase this talent. The reader will be able to experience all the different attributes that make Pablo Neruda great with this vast collection of poetry that has both the original Spanish lyrics along with the English translation. Certain elements of his writing style are evident throughout all his poetry. One element is his ability to convey compassion for other human beings in his poetry. Another element is his deep appreciation for being alive.
My favorite part of this anthology is the section titled "A Lamp On the Earth." In this section, the reader will experience Neruda's love for the precolonial history of the Americas. I personally like this section because Neruda's use of imagery invokes a sense of pastoral beauty. This imagery is found in every aspect of his description of the land down to the different variety of gems found in the earth. I find his use of imagery very moving. If you are interested in reading poetry that excites your mind and invigorates your heart, then check out The Poetry of Pablo Neruda by Pablo Neruda at your local Fulton County Library System branch today!
Check out The Poetry of Pablo Neruda on Hoopla, Libby, or from your branch's shelves with your library card today!
The Poetry of Pablo Neruda eBook

For personalized reading recommendations,
ask Novel Deliveries. 

Answer a few questions about what you like and/or want and get suggestions in only a few days.
This post is for educational purposes and the contents are not endorsed by the Fulton County Library System or Fulton County Government.